Custom Solutions
Custom Production Metrology Systems
---
Digital Metrology specializes in custom solutions to challenging shop floor measurement problems. We team up with sensor manufacturers, integrators and fixturing experts to develop software-hardware solutions that measure accurately in any environment.
Customers rely on our expertise in metrology and mathematics to get the custom results they need in their particular application. We do far more than just outputting numbers: we produce measurement results that are built upon the latest metrology methodologies. We are deeply committed to our involvement with National and International standards organizations, so that we can ensure that our custom software generates values that are traceble to worldwide standards.
Lastly, our production software is designed with extremely user-friendly features that saves time and remove the drudgery of repetitive measurement. While most production software locks you into an "all-or-nothing" measurement routine, our software combines helpful features, such as guided sequences, with the flexibility to go "off-script" to remeasure or verify unscripted locations on-the-fly.
The result: reliable data, greatly reduced cycle times, and automation that helps staff to do their job, without getting in the way.
Here are a few of our success stories:
Guided-Sequence Shaft Measurement
A crankshaft manufacturer was looking to improve measurement of roundness, sector roundness and harmonic frequencies. The method being used only allowed single measurements, and the probe hardware was unable to produce good frequency response measurements.
Working with an instrumentation/electronics firm we combined the existing measurement probes with improved hardware to accurately measure harmonic frequencies. Our software guides the operator through the measurement locations, presenting the results in an easy-to-read tabular format, along with an image of the measurement locations for quick cross-reference. The operator maintains control to re-measure at any location that may have been compromised by dirt or other issues.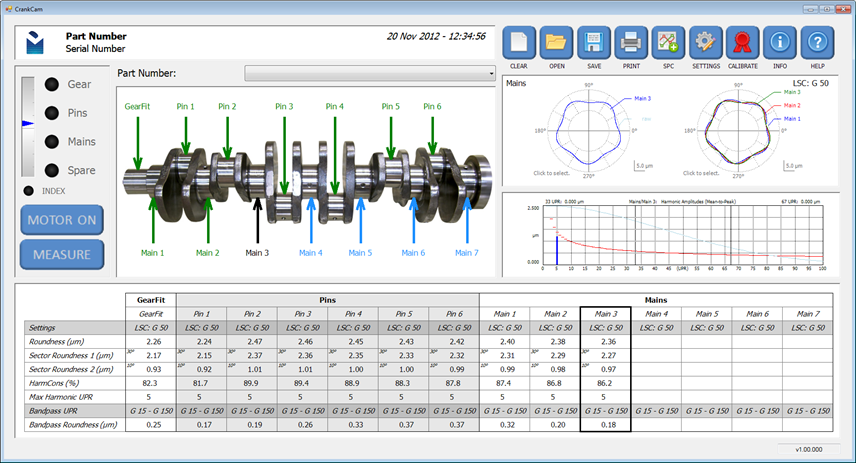 This project highlights Digital Metrology's ability to work with hardware and sensor companies to efficiently, and cost-effectively, improve existing measurement processes and data.
Shop Floor Roundness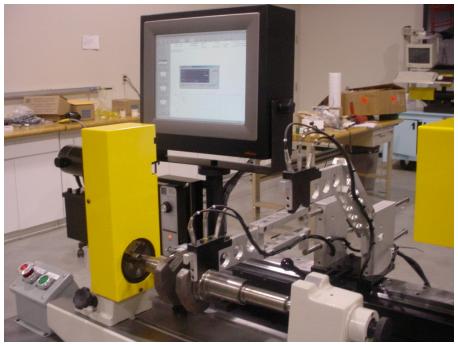 Digital Metrology teamed up with an engine manufacturers and a major US university to develop a "shop floor" system for measuring roundness and harmonics. The system controls the measurement of roundness and harmonics of crankshaft features to tolerances on the order of 100 millionths of an inch (2.5 micrometers).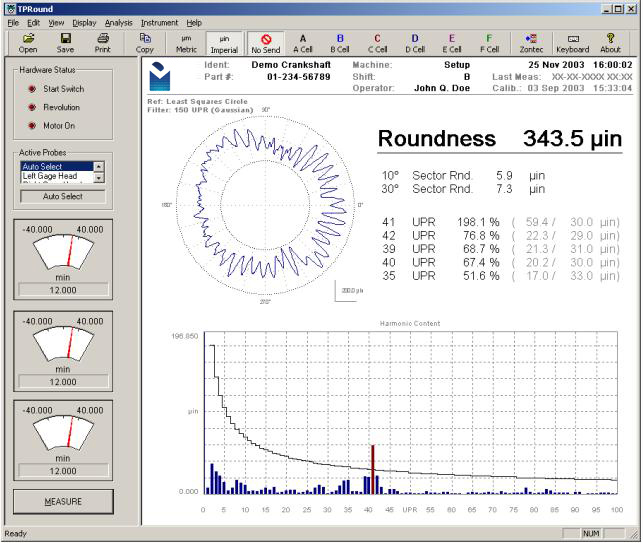 Rather than relying on a precision spindle, the system utilizes a "three-probe" approach that decouples the form errors of the component from the movement. The result is a system that quickly and accurately measures roundness in a production setting without the need for a precision spindle or a time-consuming levelling and alignment process.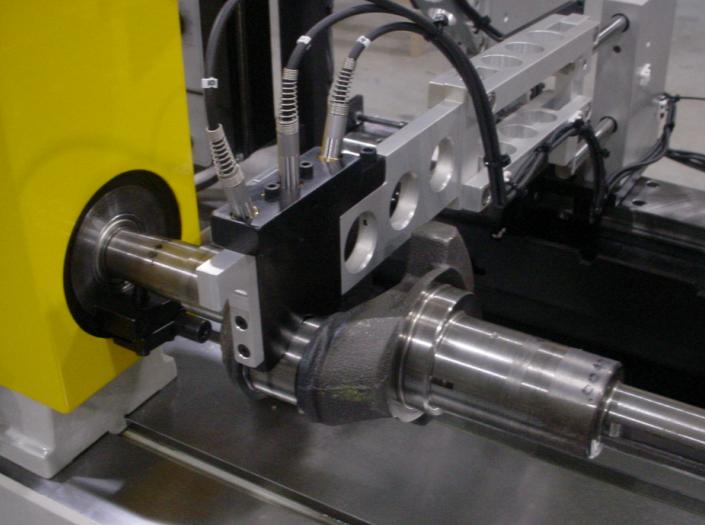 Laser-Based Burr Measurement 
An engine block manufacturer needed to detect and quantify burrs that were being generated during a chamfering operation. Of particular concern were burrs that protruded above the head deck.
The initial solution was to manually inspect each bore using a line scanning sensor and custom gauge tooling. While the sensor did reveal burrs, the process was time-consuming, and the visual inspection could not produce repeatable burr height and width numbers.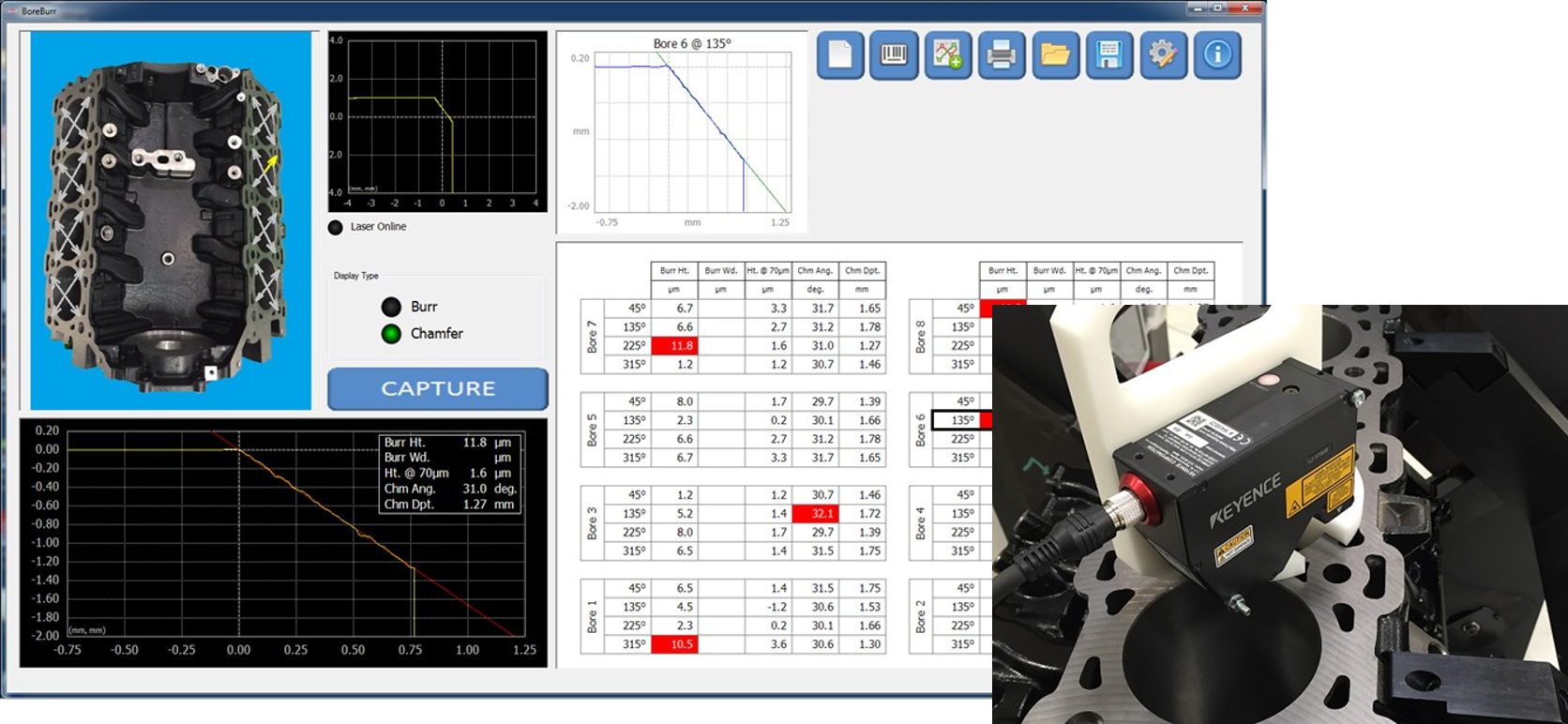 Digital Metrology developed software to interface with the sensor and to provide the operator with an easy-to-navigate interface. A guided sequence shows the operator the location for each required measurement, and a quick press of a button on the gauge handle produces fast results in tabular format.
The software solution resulted in a tremendous improvement in measurement speed, as well as accurate burr height and width data, vastly improving on the prior, qualitative visual inspection.
This  project is a great example of how Digital Metrology's software and math expertise can transform raw sensor results into production measurement data.
Robotic Surface Texture and Crosshatch Measurement
An engine manufacturer was looking for ways to improve on a labor-intensive cylinder bore measurement, requiring twelve surface finish traces and a crosshatch measurement inside each cylinder bore. Digital Metrology teamed up with Indiana-based Tempest Tool to develop a robotically-controlled production measurement system, and in the end even incorporated a second measurement into the same operation.
System development began with a robot-mounted tooling head that incorporates four, off-the-shelf roughness gauges, enabling simultaneous measurements inside the bore. The robot automatically moves the measurement head to complete measurements at three vertical locations inside each bore, for a total of twelve measurements, before moving automatically to the next bore. Results are summarized in tabular format operator can also view the individual profile graphs with a click of the mouse. Custom measurement or re-measurement tasks are as simple as clicking the desired location(s) and hitting the "run" button.
The robotic system has reduced measurement cycle time from 2 hours to under 30 minutes, while improving measurement location repeatability and freeing an operator from a monotonous measurement task.
The screenshot above shows the results overview table and crosshatch measurement image. The insets show measurement results for one set of four roughness measurements on the left, and an image of the robot and hardware on the right.
Here is a video of the system in action (Courtesy of Tempest Tool).
Learn more
For more information about this or any product, or to discuss a specific custom solutions need, please
contact us
.