TraceMaker
Multiple Profile Surface Texture Analysis
---
In a production environment we typically need to manage multiple measurement at several locations per part.  But most measurement software is built around the task of making one measurement—you're left to handle the tasks of tracking and tallying the data on your own. 
TraceMaker provides a straightforward interface for acquiring multiple profile traces per part. It is designed for production: just touch a measurement location on screen and click Measure. Guided sequences step you through all measurements. When you're done, click a single button to save everything to your SPC system.
Download a 10-day Trial of TraceMaker
Tablet-friendly "point and click" interface 
In TraceMaker all control functions and data results are integrated into a single, touch-friendly screen: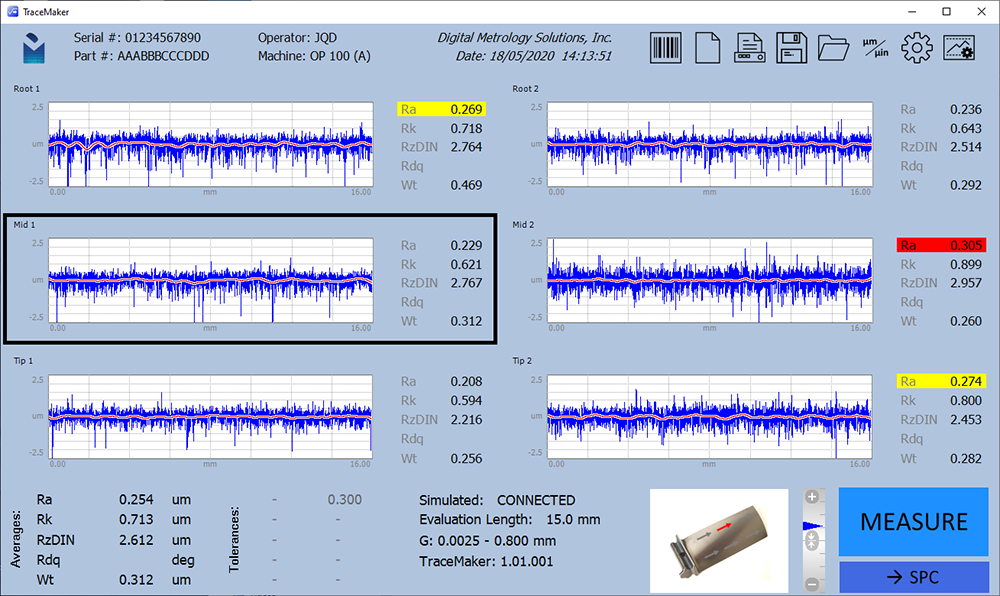 For each measurement location you'll see the profile along with configurable surface roughness statistics. Pass/fail color indicators highlight out-of-spec conditions.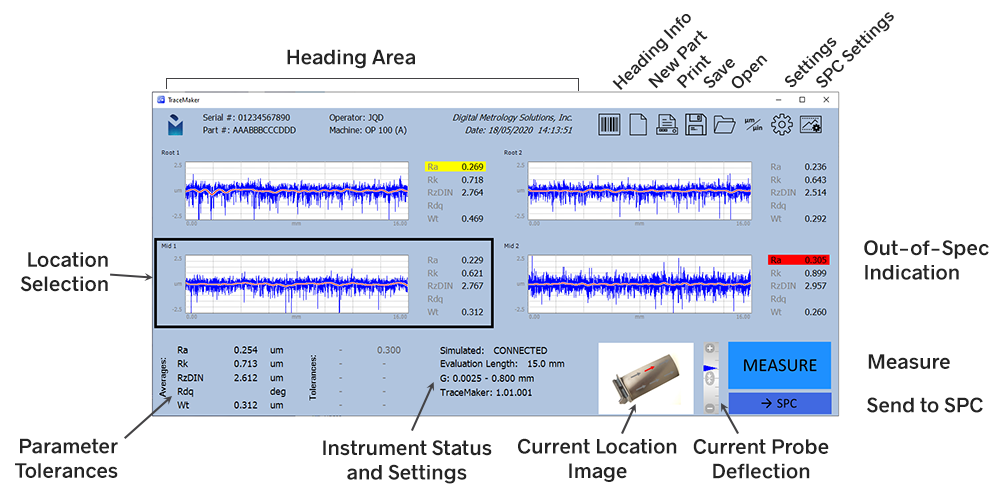 Guided sequences step you through measurements—but don't lock you down
TraceMaker's sequences use actual part images to guide you though all measurement locations for a particular part. 

Need to remeasure at a location? Just tap or click to jump to that location and re-measure quickly. The ability to exit and re-enter a measurement sequence is a flexibility feature often overlooked by software developers.
Download a 10-day Trial of TraceMaker
Part recipes
Production recipes take the guesswork out of setup. Simply select the recipe for the current part, choose a location to measure, and click the Measure button. The software pushes settings including trace length, filters, etc., to the instrument, ensuring repeatability across shifts and operators. Loading and saving recipes is a breeze as well.
Support for multiple instruments
TraceMaker interfaces via USB with several popular gauges, and we are adding more support all the time. Don't see an instrument that you need? Contact us—we would be happy to talk about a new addition!
Simple SPC interface
TraceMaker makes it easy to upload quality data to your SPC system. After each set of measurements just click the SPC button to send a .csv or qc-calc file to the network, with all part information, instrument settings, measurement results and pass/fail limits. 
The right set of tools
TraceMaker eases production measurement, providing a straightforward set of tools for tablet-based measurement in a manufacturing environment. Try TraceMaker for free for ten days to see how it can help you with production profile measurements!
Download a 10-day Trial of TraceMaker
Learn more
For more information about this or any product, or to discuss a specific custom solutions need, please
contact us
.