HatchView
Crosshatch analysis software to understand your honing process
---
HatchView provides a simple, affordable and yet highly accurate means of measuring crosshatch angle and exploring the consistency and cleanliness of your honing process. No need for expensive equipment. No need for tedious fax film work or large, unwieldy camera systems. Simply connect a camera and begin seeing your surfaces like never before.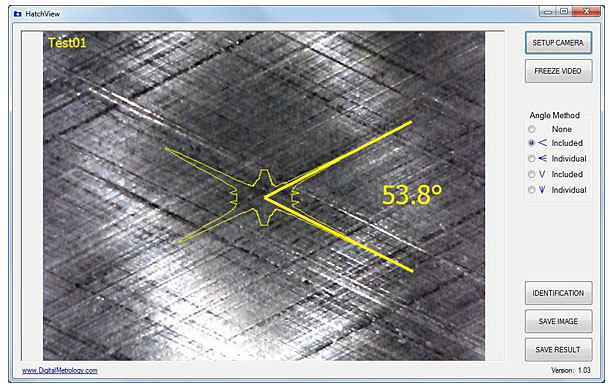 ---
Crosshatch angle measurement
The crosshatched pattern on a surface generated by honing typically looks something like this: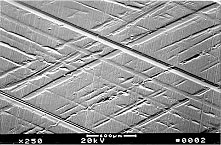 This pattern is the result of the rotation of the honing stones while stroking in and out of the bore. The "down" stroke imparts one pattern and the "up" stroke imparts the other pattern. The angular relationship between these strokes makes up the "crosshatch" angle an it is the result of the stroking speed coupled with the rotation speed. This above picture is from a plateau honed surface. However the same pattern is present in conventional honing as well as plateau honing.
---
Why bother with crosshatch angle measurement?
The crosshatch angle is important for engine performance, particularly as it relates to blow-by and oil consumption. A reliable way of measuring crosshatch angle is essential to producing surfaces that will perform the way that they are supposed to.
Need to track and analyze crosshatch and surface roughness? Check out our TraceBoss+ software, with roughness, crosshatch, and much more in one software package!
---
With two versions, HatchView can fit any need
The standard HatchView version includes all of the analysis options along with the ability save images.  For those that need to store the numerical results, we have HatchViewSPC.  With HatchViewSPC you can send your results to a file or out the serial port for storage and further processing.

---
Watch it in action
Check out the HatchView demonstration video on the Digital Metrology's videos page. See how quickly and easily you can visualize and measure your crosshatch pattern.
---
So what do I need?
First off, you need a USB microscope. Try a Google search for "USB Microscope" and you'll see several. To avoid spending all of that time wading through the thousands of links here are a couple that you might like. (Note: this is by no means an endorsement. They are just a few that I've found to be affordable and useable.) If you have any suggestions for additional microscope options, please contact us today.
Typical USB microscope prices range from anywhere around $25 (yes, that's right $25) up to a few hundred dollars:
:: ViTiny UM02 – Amazon (that's the one used in our video)
:: ViTiny USB Microscopes – Oasis Scientific
:: A wide range of microscopes on Amazon
System Requirements
Windows 10 or later (64-bit)
2 GB RAM
an available USB 2.0 port for live "video" viewing

1080p graphics (at 100% zoom) recommended for optimal viewing experience.
---