TraceBoss
Take your Portable Roughness Gage to the Next Level
---
Surface roughness gage software — take your gage to the next level
Most portable roughness gages show you a number, maybe an image of a trace, on a tiny screen. But what if you are ready to do more with your gage? How can you unlock the wealth of information in your data, without spending thousands of dollars?
TraceBoss is your next step. TraceBoss software interfaces instantly with most portable surface roughness gages to let you see your data full screen, with the parameters that count. Its simple interface is designed for fast production measurements, to help you see, save, and understand your surfaces like never before.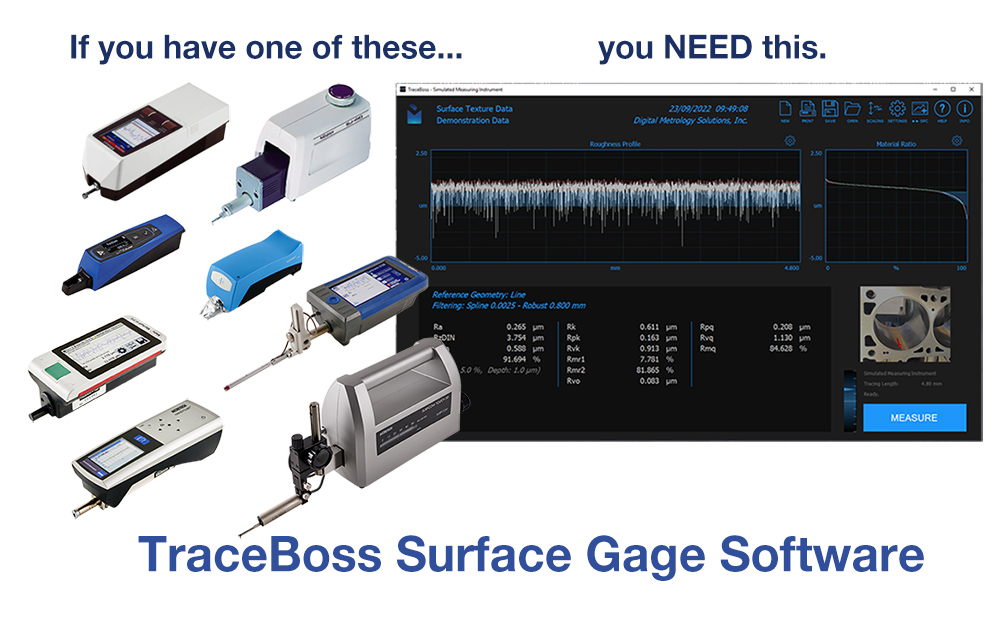 Powerful analysis from your portable gage
Accessible, affordable TraceBoss gives your handheld gage the power of a high-end instrument:
One-button measurement and analysis with most portable roughness gauges
Simple interface that lets you interact with your surface data
Easily save and recall data 
One touch exporting for tracking and SPC systems
All common roughness parameters with tolerance highlighting
Color-coded Rk parameters and material ratio curve
High contrast user interface for great visibility in any shop environment
A comprehensive help system to answer your questions
Incredible value—make the most of your measurement gage investment.
SEE your data
Most gages only output a number or, at best, a low-resolution trace on a tiny screen. TraceBoss presents your data in rich graphics, so you can see your texture, and explore it. You can even add a picture to indicate the measurement location. Want to change a setting? Just double-click it.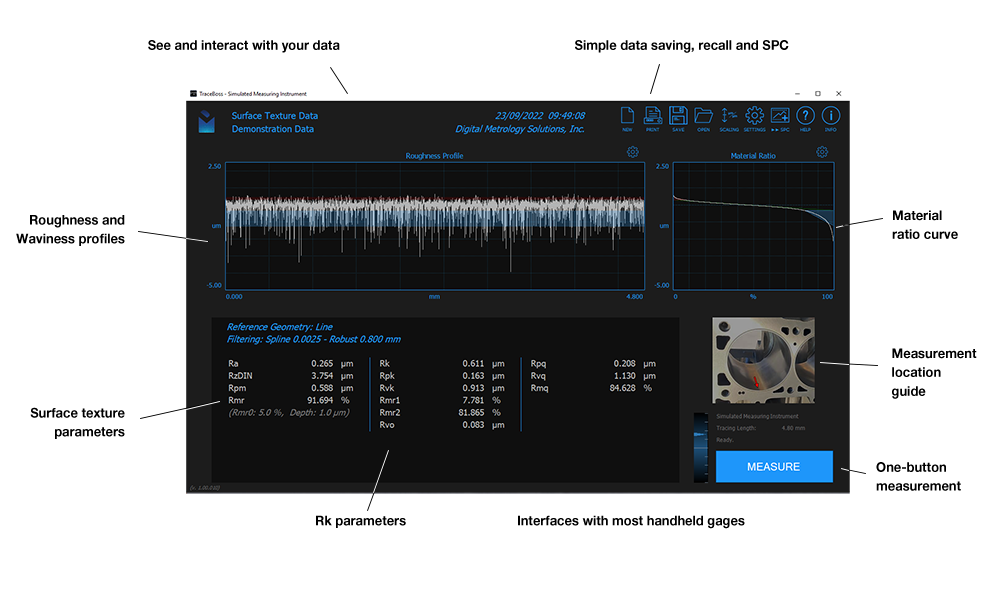 Since shop lighting can make screen viewing difficult, we've added two high visibility color schemes that make it easy to interpret results in any environment.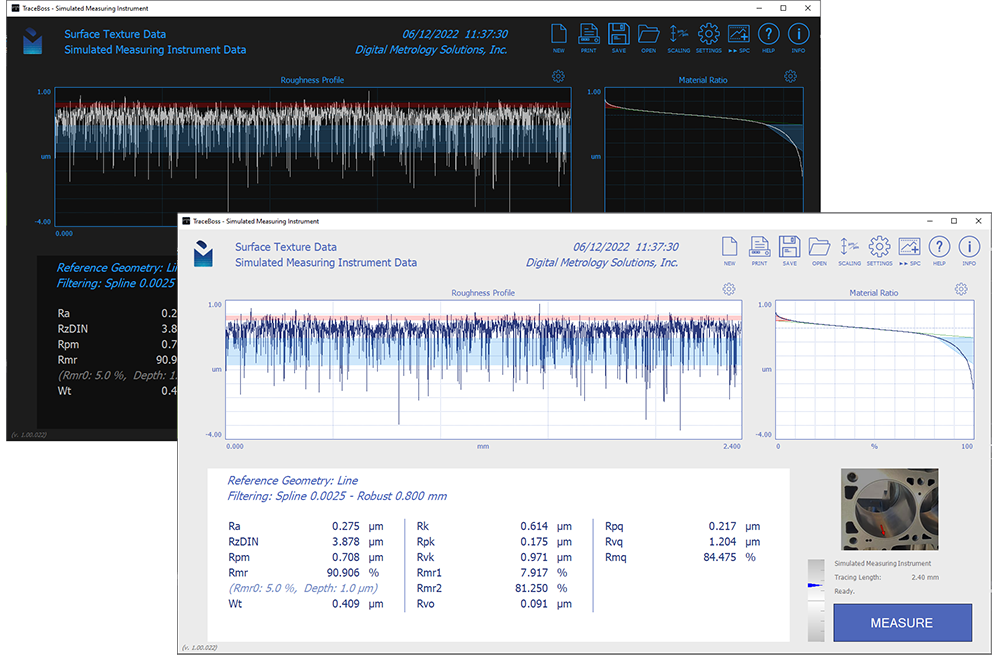 Need to track both surface roughness and crosshatch? Check out TraceBoss Plus!
SAVE your data
Tracking a process requires data that you can compare over time. But with a standard gage, once you take a measurement, that data is gone. It's up to you to write down the results—and to find them in a filing cabinet when you need them again.
With TraceBoss you can save every measurement to disk, then recall it later with a click. Output numerical results for SPC, capture the measurement screen as a PDF, or save the entire measurement to disk to open again later in TraceBoss.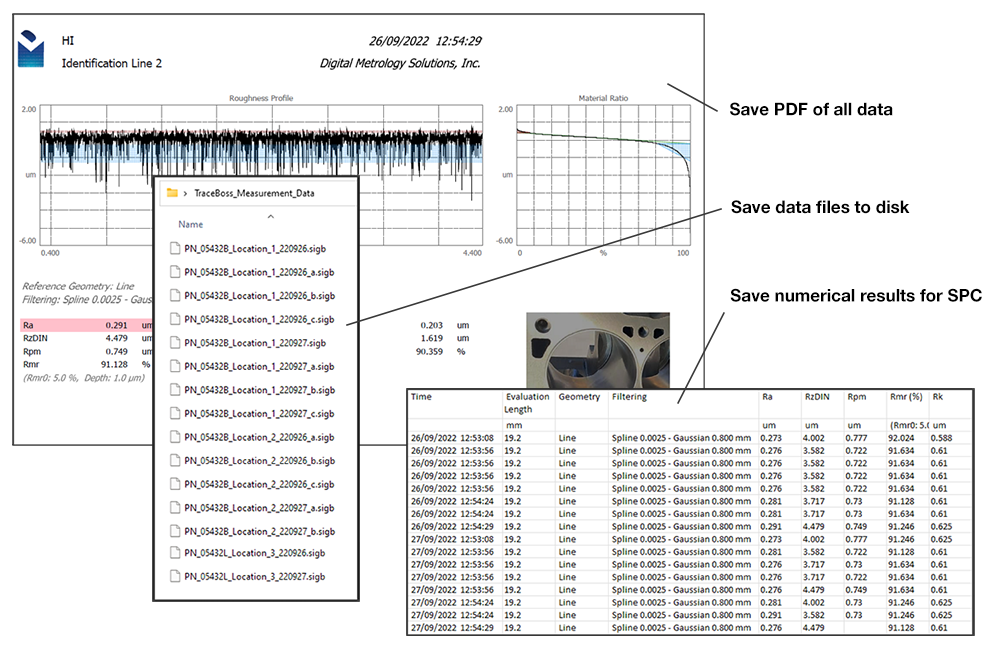 Track all common parameters
TraceBoss calculates all common parameters and presents them in a single screen—no need to dig through pages of settings to find the data you need! Set parameter tolerances so you can see at a glance whether a measurement passes or fails.

Make sense of Rk and Rq parameters
TraceBoss shows you the material ratio or material probability curve side-by-side with measurement data. The display helps you to quickly see the relationship between the Rk/Rq parameters and the peaks and valleys they describe. You can instantly connect the Rvk results (blue in the image below, or the red/pink Rpk results) to the measured surface.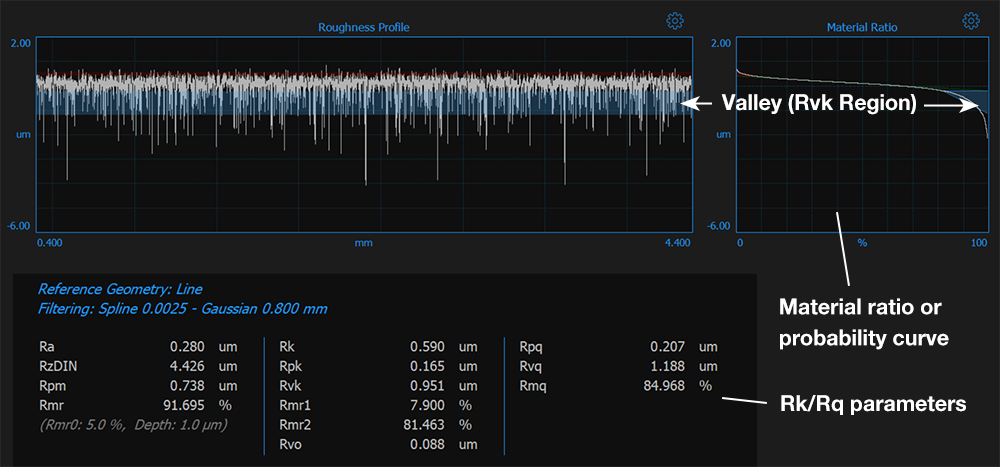 Help when you need it
When you need a reminder about settings, or with surface texture in general, the comprehensive TraceBoss Help system is there to keep you on track. And, we are always just a call or email away.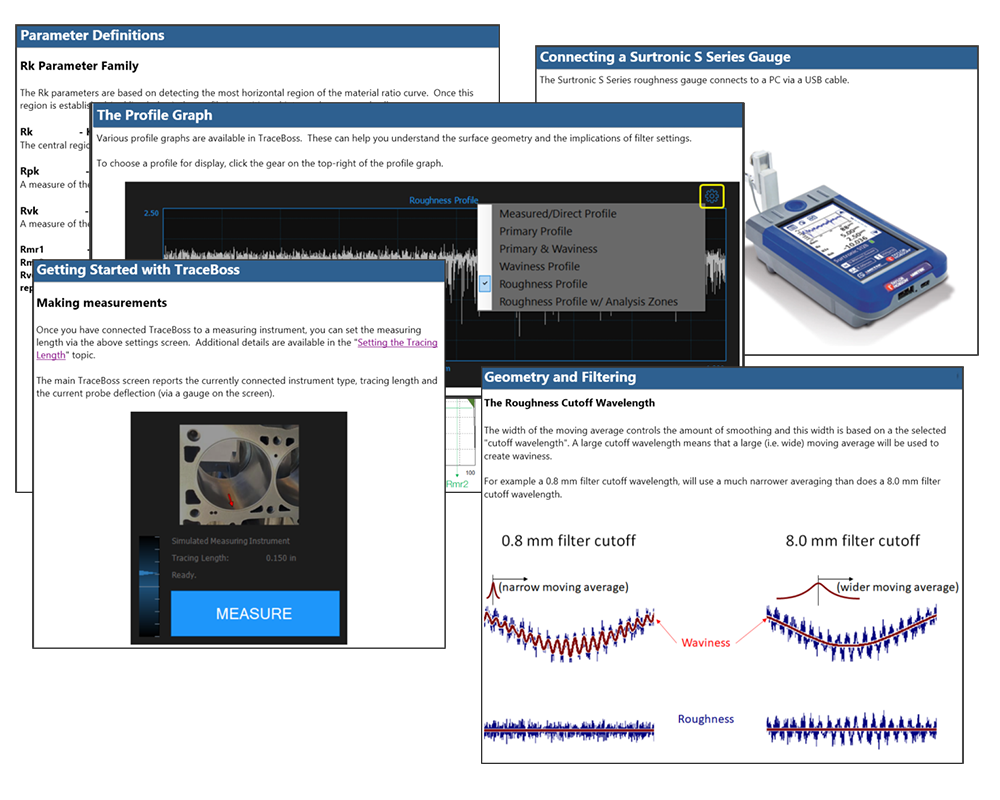 Make the most of a range of gages
TraceBoss interfaces quickly with a wide range of portable surface gages, including:
NEW! Mitutoyo SJ-210
New! Mitutoyo SJ-410 (SJ-411, SJ-412) and SJ-400
Zeiss/ACCRETECH Handysurf+
Jenoptik W10
MarSurf M 310
Surtronic S128
Zeiss/ACCRETECH Surfcom TOUCH 50
SM Metrology's LITEsurf
Setting up a new gage is as easy as plugging it in. Just a few clicks and you'll be seeing your data in a whole new light! The Help system will even guide you through the first connection; step-by-step with pictures.
System requirements
Windows 10 or later (64-bit)
2 GB RAM or better
1080p graphics (at 100% zoom) recommended for optimal viewing experience.
Incredible value
For just $850 you can start getting the most from your portable stylus gage. It's never been easier to see, save, explore and understand your surface texture data!
Start a 10-day trial to see how much value TraceBoss adds to your portable roughness gage! If you don't have a gage nearby, you can still check out all of the TraceBoss features with its built-in simulated gage!
---