OmniSurf3D
3D surface texture analysis software
---
With OmniSurf3D you will see – and understand – your data like never before!
Let's face it. Surface texture matters. It matters a lot. But until now the ability to understand and describe surface texture was left to the "experts." Big, scary equations and complicated mathematics prevented normal people from exploring, understanding and improving their surfaces.
Until now…
---
OmniSurf3D is a dynamic way to view and interact with your data!
When it comes to understanding surfaces, the most important tool is the ability to see your surface. OmniSurf3D provides, fast, beautiful and highly interactive graphics for easy visualization of your data. See your surfaces like never before!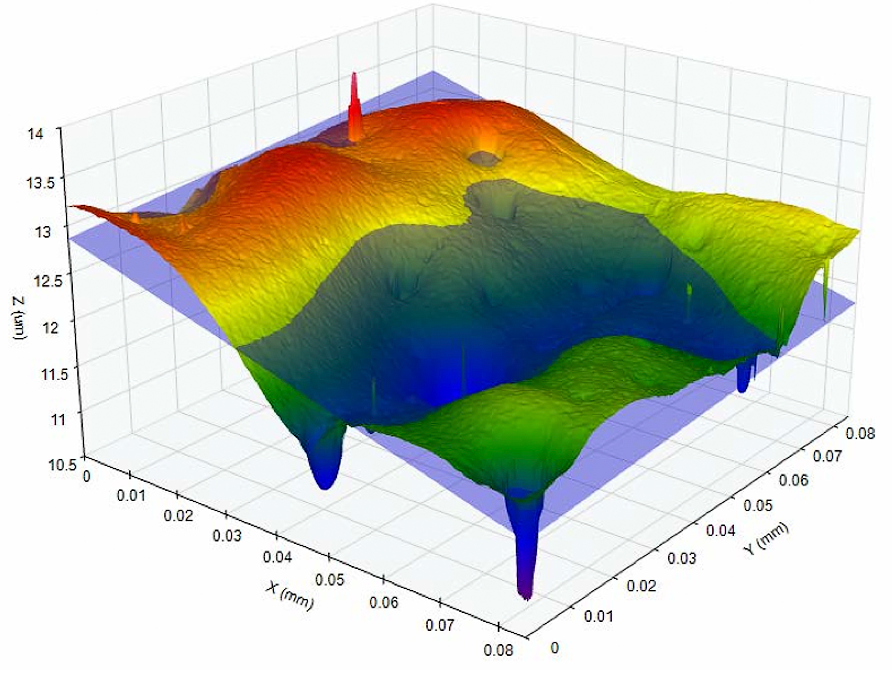 ---
The OmniSurf3D Toolset – Measurement visualization in 4 easy-to-use tools!
To describe and understand a surface you only need to deal with four things. OmniSurf3D's streamlined interface conveniently places these four basic settings in one place. Each tool independently provides deeper insight into your data. Here are the actual settings, and how they work.

Pre-processing
We hate to admit it, but 3D datasets often have bad points, missing pixels, outliers, etc. OmniSurf3D's Pre-Processing takes care of them!

---

Geometry
To understand texture, you need to remove the nominal shape. OmniSurf3D provides the reference Geometry options you need!

---

Filtering
Surface texture analysis is all about roughness and waviness. OmniSurf3D's powerful Filtering toolbox and beautiful visualizations make separating and understanding these two variables a breeze!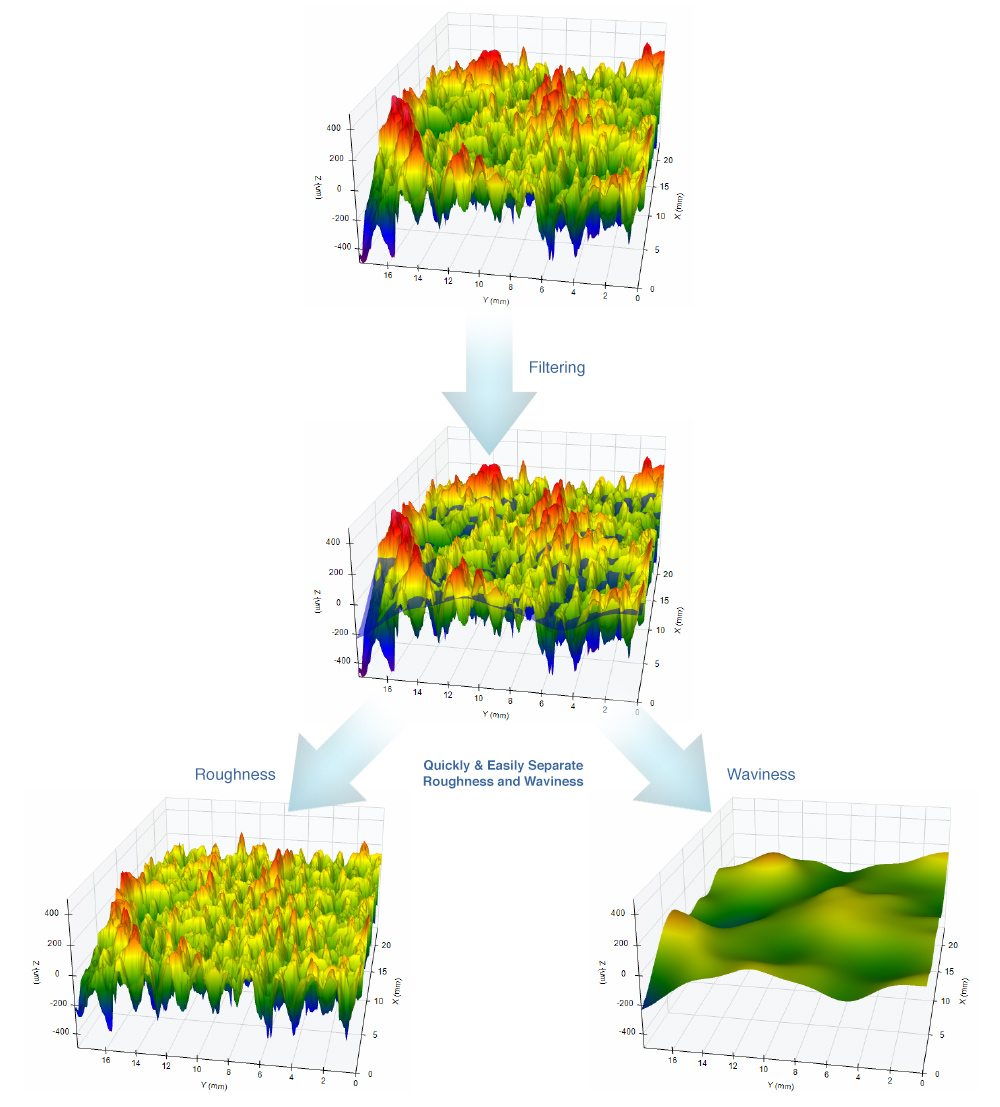 ---

Parameters
We get it. You need numbers. You need standard ISO Parameters as well as special ones that are tailored to your needs. OmniSurf3D has you covered!!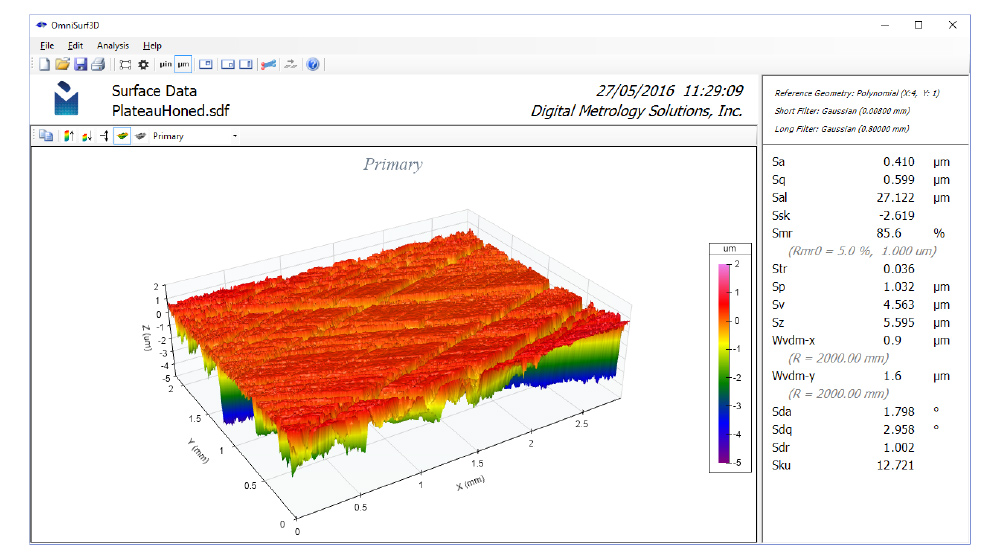 NOTE: Not all parameters are shown.
Request a 10-Day Trial of OmniSurf3D
---
Going even deeper (beyond the easy stuff)
What about handling the hard stuff? Don't worry – OmniSurf3D delivers for you there too!
Feature detection and feature parameters
Are you interested in the new ISO 25178 feature detection (Wolf Pruning) methods and parameters? OmniSurf3D has you covered! With its easy and interactive tools, OmniSurf3D helps you to quickly take advantage of these powerful techniques for analyzing hills, dales, pits, peaks, saddles, ridge lines and course lines.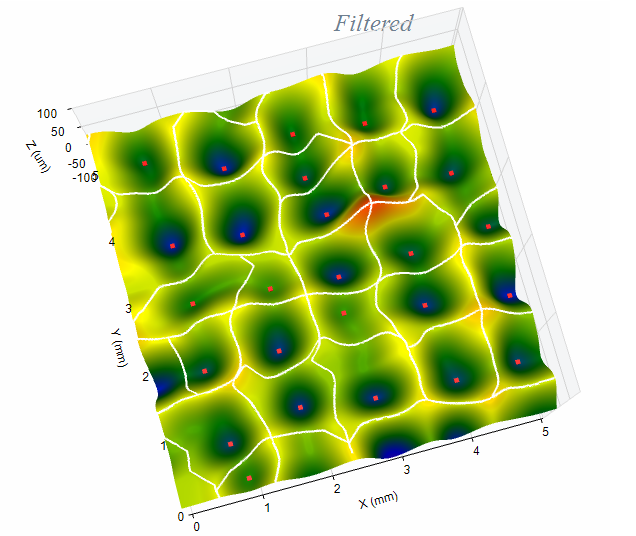 Morphological analysis
OmniSurf3D's powerful morphological tools allow you to explore curvature-related surface features. For example, sealing can be explored via OmniSurf3D's morphological "closing" filter.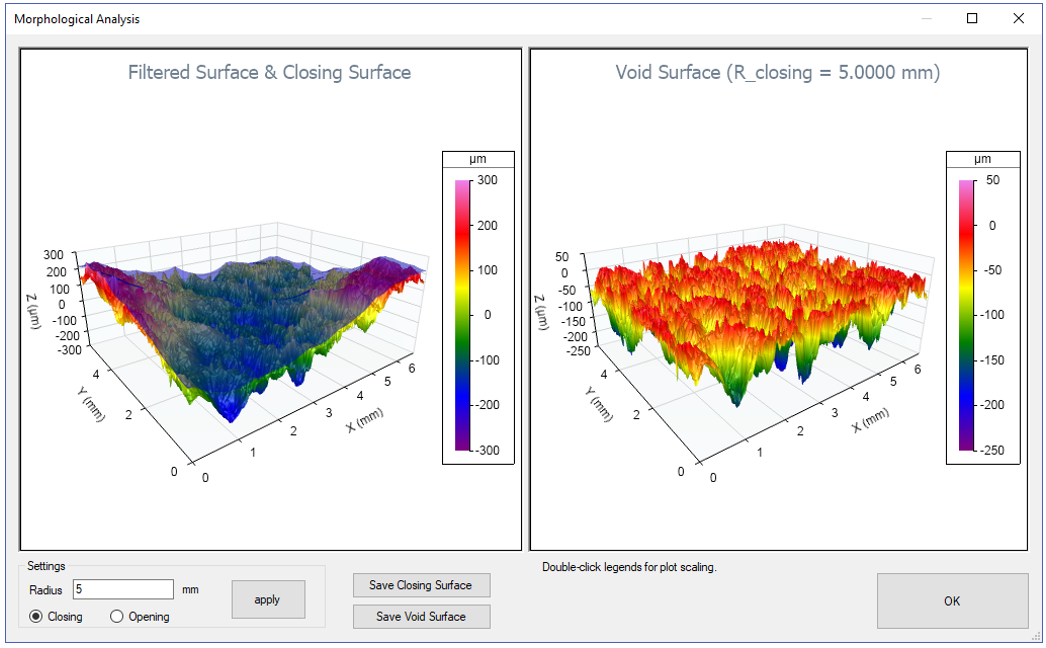 Crosshatch analysis
OmniSurf3D can automatically detect and analyze the crosshatch angles for your surface. If you'd like to explore local features, the there is easy angle (protractor) tool. You can even load image files into OmniSurf3D and calculate crosshatch angles!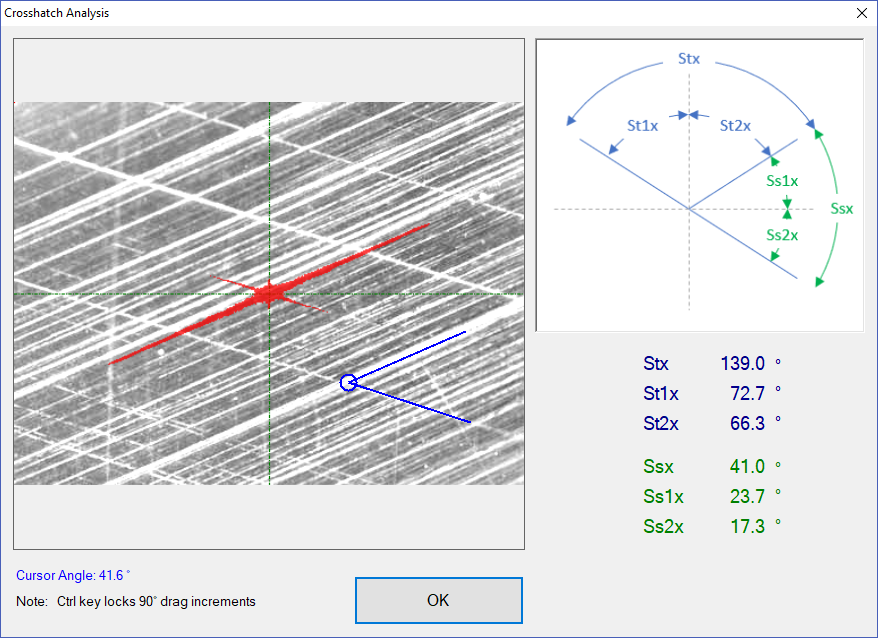 Cropping the dataset
Sometimes, you are only interested in a region of the measured data. OmniSurf3D gives you the tools to quickly and intuitively choose the region that matters!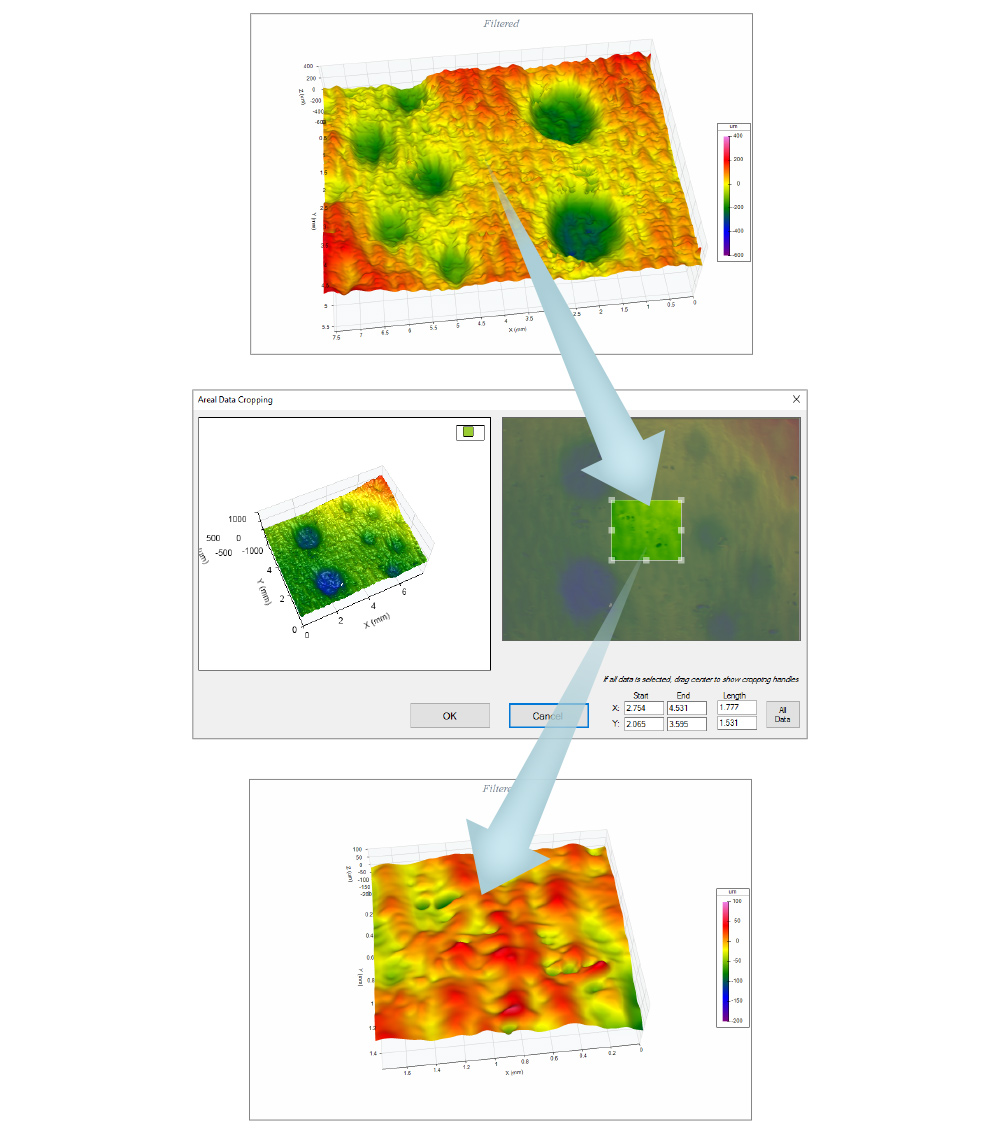 Slicing and measuring
Sometimes you need to do some slicing to see what's happening. OmniSurf3D's dynamic slice tool makes it easy!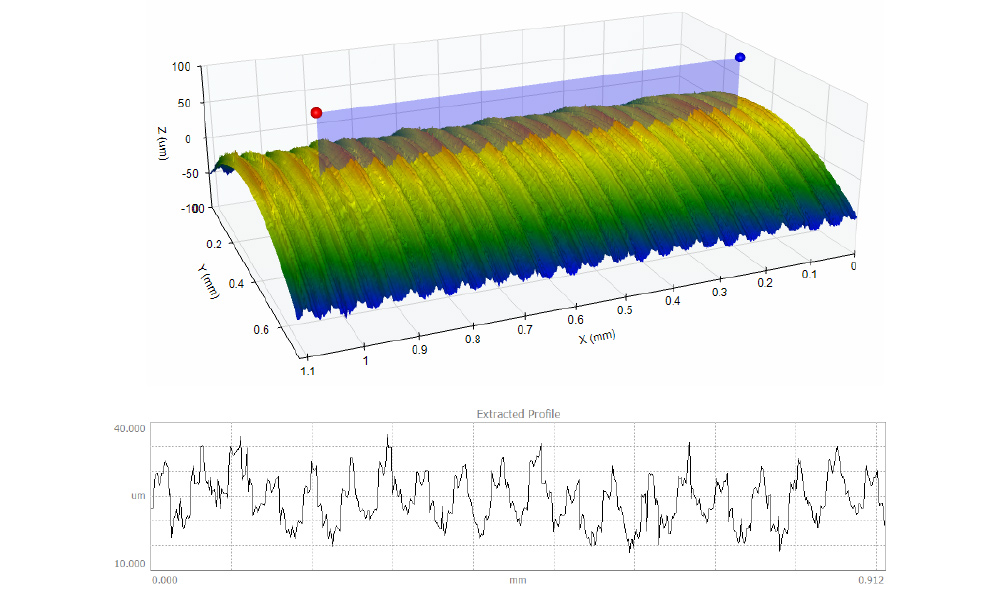 Let's measure some heights and widths while where at it!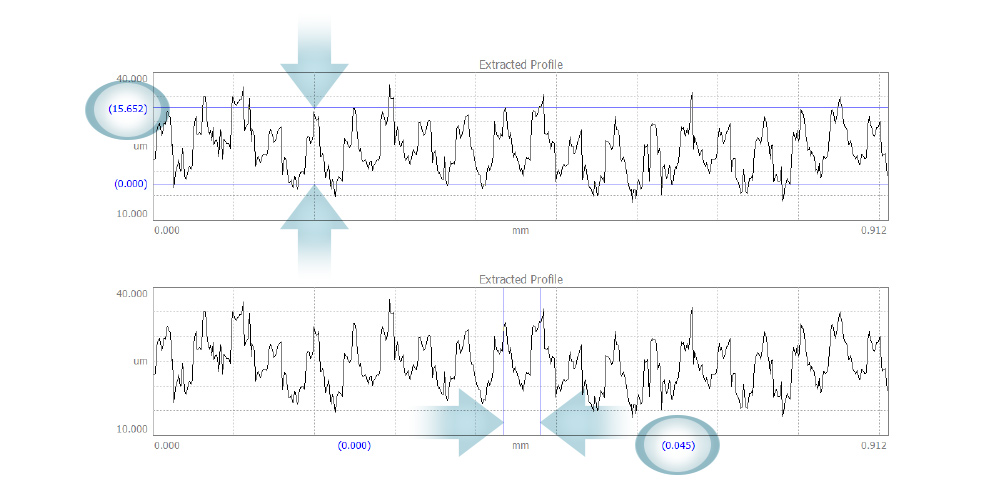 OmniSurf3D can also show you wavelength content of the sliced profile… and yes, the wavelength content graph updates "live" while dragging the slice! You can even see the transmission curves for the current filter!!!
This makes OmniSurf3D one of the most powerful tools in the world for the filtering of surface texture.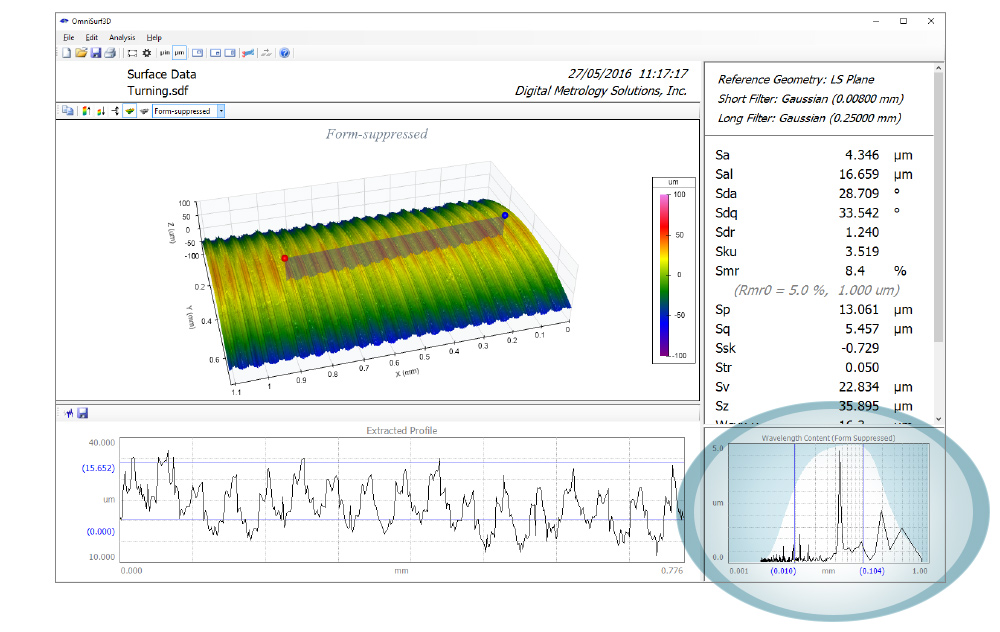 If that's not enough profile analysis for you – one click will send the current profile to Digital Metrology's world-renowned OmniSurf (2D) software package!
(Sold separately)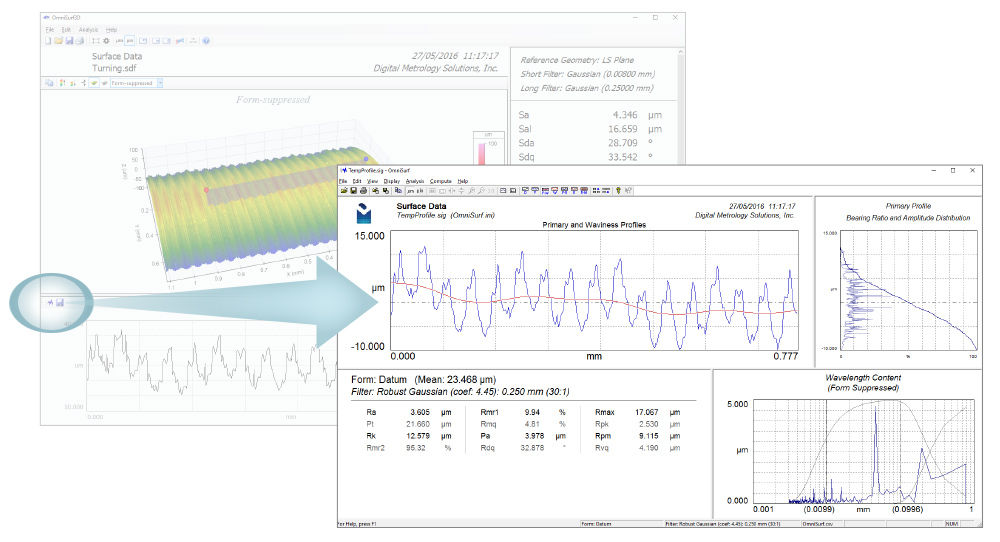 Aspheric form analysis
Aspheric lens surfaces are defined by combining a conic section and an nth order polynomial. These sophisticated lenses can replace much more complex, multi-element system, providing a lightweight, smaller system for optical applications such as cell phones, telescopes, optical instrumentation, cameras and contact lenses.
OmniSurf3D includes an intuitive interface for configuring the aspheric reference geometry. Clever tools make the process quick, including the ability to cut and paste the coefficients and to scale the live preview. Since it's easy to make a typo when entering the coefficients, the Equation Test provides a handy way to validate the equation on-the-fly, at any radius position.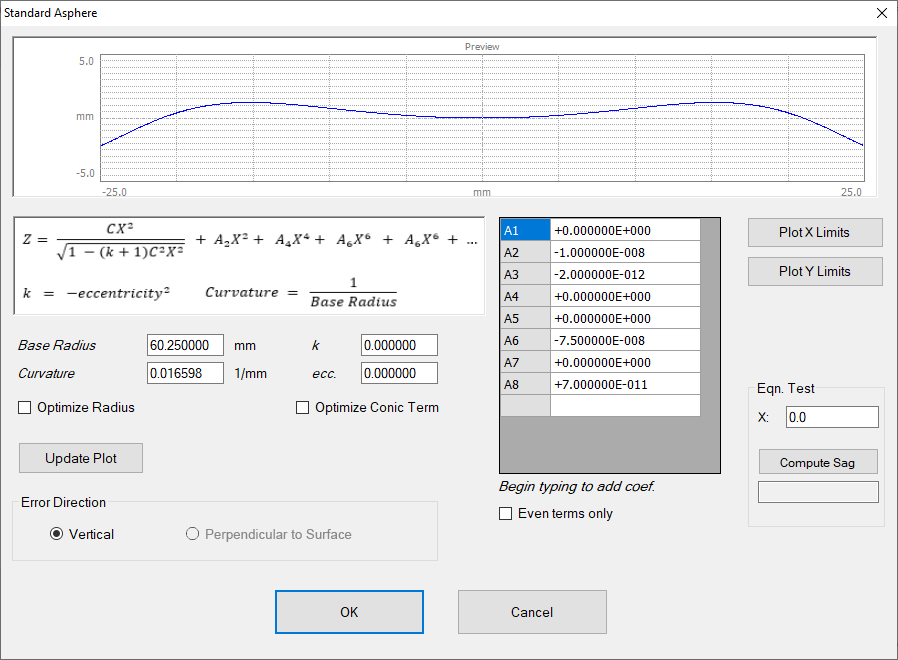 For aspheres, a significant contributor to the residual form error can be due to an error in the base radius. This can sometimes result from tooling wear. In these cases, the actual base radius is of interest. To determine the actual base radius, the operator has to manually adjust the nominal radius and re-analyze the data until the residuals look acceptable. This is a slow and difficult process.
OmniSurf3D include a powerful, one-click "radius optimization" tool to automatically determine the aspheric radius based on the measured data. Here is a residual surface, calculated using the design radius (upper left) and again with the automatically optimized radius (lower right):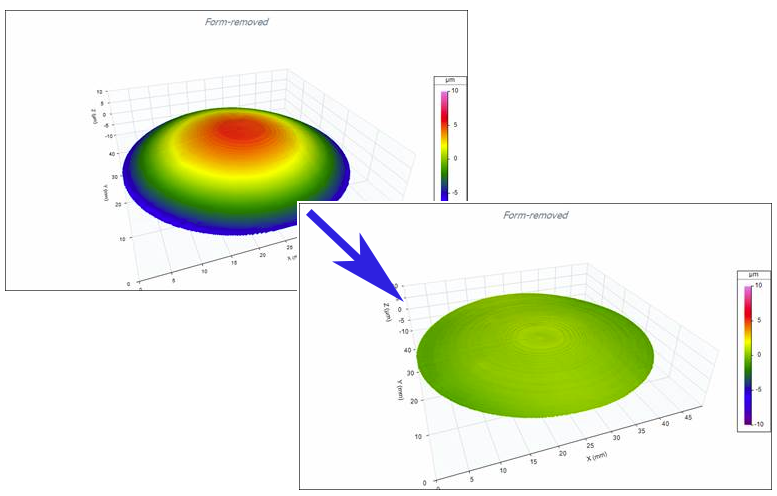 The flatter overall shape is indicative of a much better radius fit. This can be a major time-saver in a production or process development environment.
Request a 10-Day Trial of OmniSurf3D
---
OmniSurf3D details
The data
OmniSurf3D handles data from most of the common 3D surface texture measuring instruments…including the universal, ISO "SDF" format. If your instrument's file format isn't supported, we will work with you to make it so.
Have a lot of data? Don't worry. OmniSurf3D can "batch process" it for you. With just one click you can turn an entire folder of data into a spreadsheet. You can even have OmniSurf3D save all of the surface images as files for you as it goes.
The tools
OmniSurf3D contains a powerful and ever-growing set of surface analysis tools:
Pre-Processing

missing point filling, outlier removal, cropping

Form Removal / Reference Geometries

plane, cylinder, sphere, cone, user polynomials

Filtering
Feature Detection
Parameters

Sa, Sa (user wavelength band), Sal, Sc-x, Sc-y, Scvx-x, Scvx-y, Sda, Sdc, Sdq
Sdr, Sdv, Sk, Smdv, Smq, Smr, Smr1, Smr2, Sp, Spc, Spd, Spk, Spm25
Spq, Spr, Sq, Sreg, Ssk, Ssm-x, Ssm-y, St, Std, Str, Sv, Svd, Svdd-x, Svdd-y,
Svdm-x, Svdm-y, Svk Svm25, Svo, Svoid-x, Svoid-y, Svq, Svr, Sz, Sz25,
Ssx, Stx, Ss1x, Ss2x, St1x, St2x… and many more!
The computer
OmniSurf3D requires a 64-bit Windows operating system (Windows 7.1 or later) with the .NET Framework 4.6 (or later) installed.
The data 
OmniSurf3D directly handles data files from most major manufacturers as well as Internationally Standardized file formats and even X,  Y, Z point clouds.  If your file type isn't here, contact us and we will be glad to help you see your data like never before!
3-Column Comma Separated (CSV)
ISO (SDF, X3P)
Digital Metrology (OS3D)
Bruker, Veeco, Wyko (OPD, OPDX)
DEKTAK (OPDX)
DWFritz (PSL)
Zygo (DAT, DATX, XYZ)
SPIP (ASC)
Open Topography (ASC)
4D Technology (XYZ, OPD)
MapVue (MAP)
Gleason (TXT)
3 Column Text (TXT)
Gwyddion (GWY, GSF)
RhoPoint Altitudes (RES)
Zemetrics (ZMP)
Zeta Instruments (DAT)
BCR-STM files (BCRF, BCR)
DigtalSurf (SUR)
E-Measure2 (EMD)
Filmetrics (TXT)
Hirox (CSV)
RTEC (RTEC)
Geomagic (ASC)
Keyence (CSV, TAI, VK4, VK6, ZON)
Gocator (CSV)
Olympus (DSX)
Stereolithography, 3D Printing (STL)
Alicona (AL3D, ALRL3D)
ATOS PLY (PLY)
STEP Cartesian Points (STEP)
Breitmeier Messtechnik-BMT (PR)
NanoFocus Data files (NMS)
Sensofar Surface Data (PLUX)
VDA Point Clouds (VDA)
Virtual Reality / LIDAR (GLB, OBJ, USDZ)
Image Files (BMP, DIB, JPG, JPEG, PNG, TIF, TIFF)
The bottom line
OmniSurf3D combines a dynamic and engaging user experience, incredible processing horsepower and a simple and streamlined interface – all at a price so surprisingly low that the buying decision is one of the easiest you'll ever make.  You also get free upgrades for the lifetime of the software, and no annual maintenance fees.
What are you waiting for? Contact Digital Metrology and start seeing your surfaces in a whole new way!
---